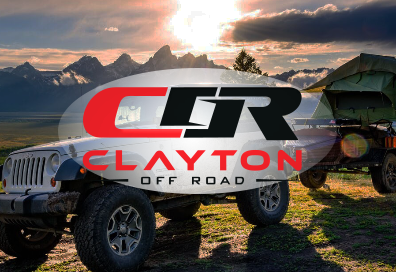 The Story of Clayton Offroad
Clayton Offroad has been setting the standard for long-arm suspension kits since 2001. In November of 2002, the brand became the first suspension manufacturer to offer long-arm suspensions for all four of the major Jeep models: the TJ, XJ, WJ, and ZJ.
Clayton Offroad wasn't established on a business plan, but rather started out as a hobby with a solid business philosophy that prospered. The company is dedicated to providing its customers with the highest quality and most durable products available on the market with great attention to customer service. At Clayton Offroad, they aren't just working on manufacturing Jeep parts, they are also competing at local competitions, riding on the trails with local clubs, and out 4-wheeling with their buddies.
Born from a Personal Realization
The co-owner and founder of Clayton Offroad, Clayton Walters, began operations in a one-car garage. He started out designing and manufacturing rocker panels and bumpers for his own Jeep ZJ. In 2001, after daily driving a ZJ with a 6-inch lift and short-arm suspension for a year, he realized the need for a new suspension system to make his car a pleasure to drive again. In June of that year, Clayton Offroad Manufacturing, LLC was born and debuted its ZJ long-arm suspension at the Grand Slam East event in Gore, Virginia. The suspension proved to be a huge success after being driven over 400 miles to try its luck at the toughest trails at the event. Later that year, Clayton Offroad was producing ZJ long-arm kits in full swing, followed by the release of the XJ kit, WJ kit, and eventually a TJ kit.
In 2007, with the new Jeep JK hitting the market, Clayton Offroad began assessing what type of lift was needed for the model. Taking the design improvements on the JK into consideration, the brand came up with a standard length-based control-arm suspension.
Products Tested to the Limits
Clayton Offroad is more than just a suspension manufacturer; it also produces transfer cases, gears, lockers, driveshafts, and complete custom axle assemblies born from its drivetrain expertise. All of the product designs and developments are rigorously tested in real-world situations to guarantee safety, proper functionality, and durability. Throughout the years, Clayton's products have been abused and tested in professional rock crawling competitions all across the U.S. The brand takes pride in using only the latest technology, including CNC press brakes, millers, turning centers, and laser cutters to offer quality, close tolerance parts for your Jeep.
Clayton Offroad Parts at Vivid Racing
Vivid Racing carries an extensive inventory of quality Clayton Offroad parts to upgrade your Jeep's suspension and ride quality. We have what you need from handling arms, axles, brake lines, and bushings to full lift kits, underbody components, springs, and other suspension parts. If you cannot find what you are looking for above or have questions regarding these products, please call our parts specialists at (480) 966-3040. We are here to help you choose the right upgrade for your particular Jeep application and make the buying process a seamless one.