Who is FabSpeed?
Fabspeed is an aftermarket company that has been in the automotive industry for more than 25 years. They specialize in creating high-quality and high-performance parts for various vehicles. They provide parts for some of the industry's hottest exotic cars. Today, they have created a name for themselves and are steadily growing and extending their reach in different parts of the world.
The company offers a wide range of products ranging from performance air intakes, exhaust systems, and ECU tuning. All of their products are created in the US and are handcrafted in Fort Washington, Pennsylvania. This helps them ensure that they create top-notched products consistently.
Their parts are made 100% in-house starting from design, engineering, manufacturing, and product testing. The company has a 26,000 sq. ft facility which oftentimes hosts events for car clubs such as Porsche Club of America, Mclaren, Lamborghini, and Ferrari. This relationship between their customers has helped them gain their trust making them the most sought-after brand for these exclusive market vehicles.
For over two decades, FabSpeed has been designing and building exhaust systems, ECU tuning, and air intake systems for exotic cars all over the world. Like many aftermarket automotive companies, FabSpeed is comprised of enthusiasts with a desire to help others go fast. Their talented team of engineers and machinists, plus innovative machinery, allow them to build products you can be proud to have on your car.
The story of FabSpeed starts in 1986, when a man by the name of Joe Fabiani purchased a 1985 Porsche 911 Carrera and got into his local Auto-X scene. Later down the line, Joe got involved in high performance driving events. When he built his first dedicated track car, a 993 Carrera, he couldn't find an exhaust system that satisfied him, so he built his own exhaust. Word quickly spread amongst the Porsche enthusiasts at the track and everyone wanted the exhaust Joe built for his 993, marking the start of FabSpeed. FabSpeed quickly became a name synonymous with performance Porsche exhausts, but it didn't stop there. By the mid-2000s, FabSpeed was developing and selling exhaust systems for many exotic cars ranging from Ferrari to Lamborghini.
The Best Vehicles Deserve the Best Parts
Fabspeed aims to create the finest performance parts to help enthusiasts enjoy their vehicle better. Their products are designed and engineered to further improve what is already a good performing car. Using real-world experiences and client feedback, they are able to develop their parts that would meet their client's expectations.
Why Choose FabSpeed?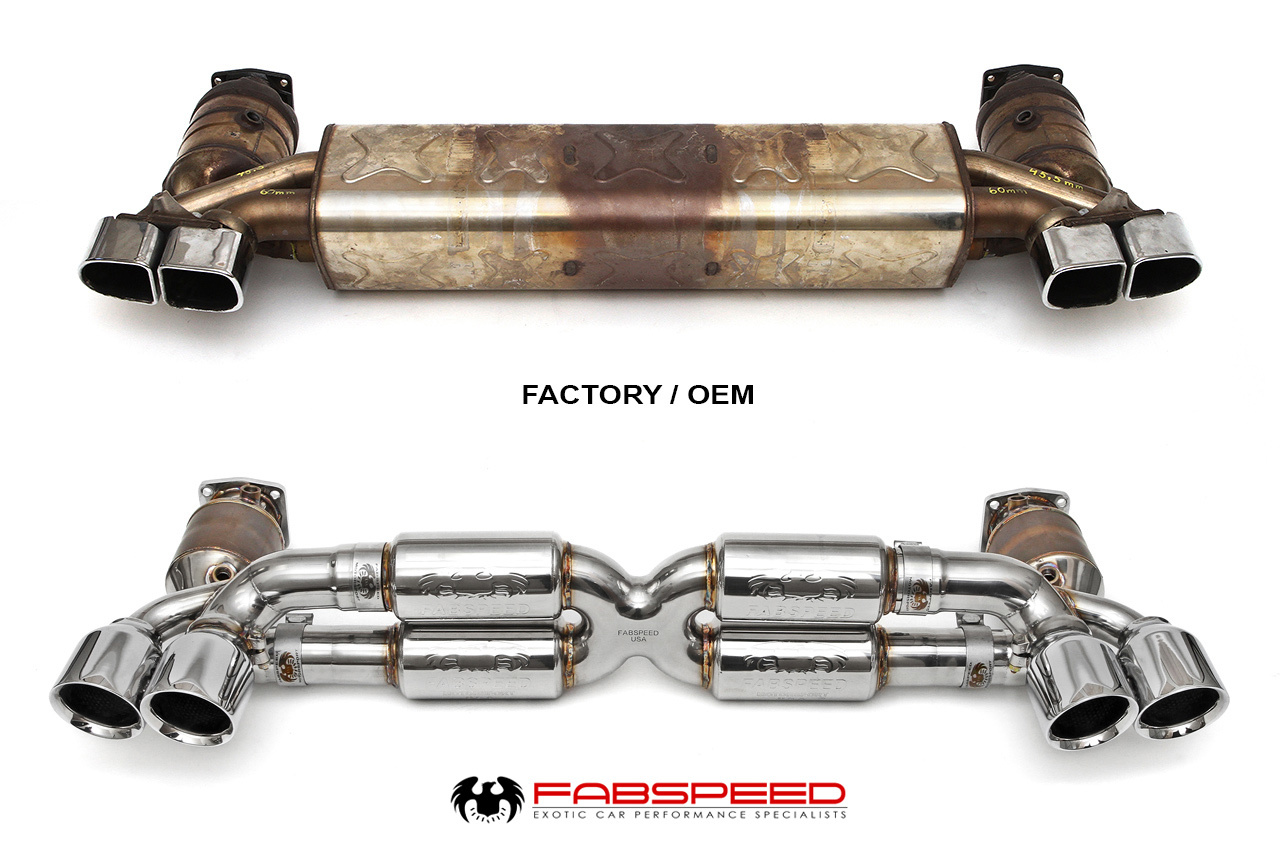 You might think "there are tons of aftermarket companies out there, why should I choose FabSpeed?" There are many aftermarket companies who claim to be experts in exotic tuning, however, many of these companies don't have the decades of experience that FabSpeed has. When you order a FabSpeed product, you know you aren't just paying for a brand name. You're paying for a product which is backed by talented machinists, welders, designer, and decades of experience.
Build Quality
It doesn't matter how well an exhaust is designed if it's built from low quality metals with bad welds. FabSpeed specifically uses high end metals and TIG welds their systems throughout to ensure the best build quality possible. No one wants to put a low-quality product on their exotic car, and you don't have to with FabSpeed!
Design
As you can probably tell from the image above, automakers build their exhaust systems to a cost. Even on many high-end exotic cars, the OEM exhaust system uses a bulky design and super cheap materials. By designing the exhaust system with the purpose of increasing power and reducing weight, FabSpeed exhausts look and perform much better.
Performance
It's no secret aftermarket exhaust systems increase power. With increased flow comes an increase in power. On top of the increase in flow, the use of premium materials and better designs also means FabSpeed exhaust systems weigh significantly less than an OEM exhaust. For turbocharged vehicles, the power gains can put the vehicle in a different league of performance.
Sound
One of best parts of owning an exotic car is the awesome exhaust note they produce. Because of government regulations, many auto manufacturers can't make their vehicles as loud as they would like. This is one of the many reasons anyone installs an aftermarket exhaust. FabSpeed's exhaust systems offer a deep, powerful, unique, and loud note that far surpasses any OEM exhaust system.
How an Aftermarket Exhaust Increases Performance
You've probably heard everyone on the internet tell you that aftermarket exhaust systems increase the power output of your vehicle, but no one every explains how the power gain occurs. Exhaust is a byproduct of combustion. There are three important things that determine how your exhaust gases flow through the exhaust system: flow, heat, and scavenging.
Total exhaust flow is determined by the diameter of the exhaust piping and the path of the piping. If you have small piping, flow is heavily restricted. If you have an exhaust with a massive amount of bends and diameter changes, it will also restrict flow. Scavenging occurs when the low pressure zone behind an exhaust pulse helps pull along the next exhaust pulse.
Heat is also a key factor to an exhaust system, however, its importance is amplified in a turbocharged application. As exhaust has cools down, the velocity it moves at decreases. For a turbocharged vehicle, high exhaust velocity means quicker turbocharger spool and increased boost pressure.
A good exhaust system will increase flow, possibly increase velocity, optimize exhaust scavenging, and use heat to its advantage. The whole idea is to make it easier for the piston to push the exhaust gases out of the cylinder. If it's hard to push the gases out of the cylinder, that will resist the rotation of the crankshaft. If it's easy to push the gasses out of the cylinder, there will still be resistant to the rotation of the engine, but with less resistance comes more power.If you have questions, please contact us. You can reach us by phone at 1-480-966-3040 or via email at sales@vividracing.com.