While the M3/M4 G80 definitely dropped the ball in the front end looks department when compared to it's F80 older sibling, I admit it's starting to grow on me. Like a dog grows into its ears, the G80 has split the room in half in terms of aesthetics but I think we can all agree the performance can't be ignored. So like you, we were excited to see just how much we could get out of the G80, but we just had to wait for our VR Tuned Tuning Box V2 to arrive from Germany.
Interested in this G80/G82/G84 Tuning Box ? Order Here
Once we had hardware in hand, we drained the fuel and ensured we had consistent fuel as we were aiming for the moon initially. However, after this completely factory G80 put down 503hp and 479ftlbs of torque, we thought we didn't have much room to grow, but we were wrong.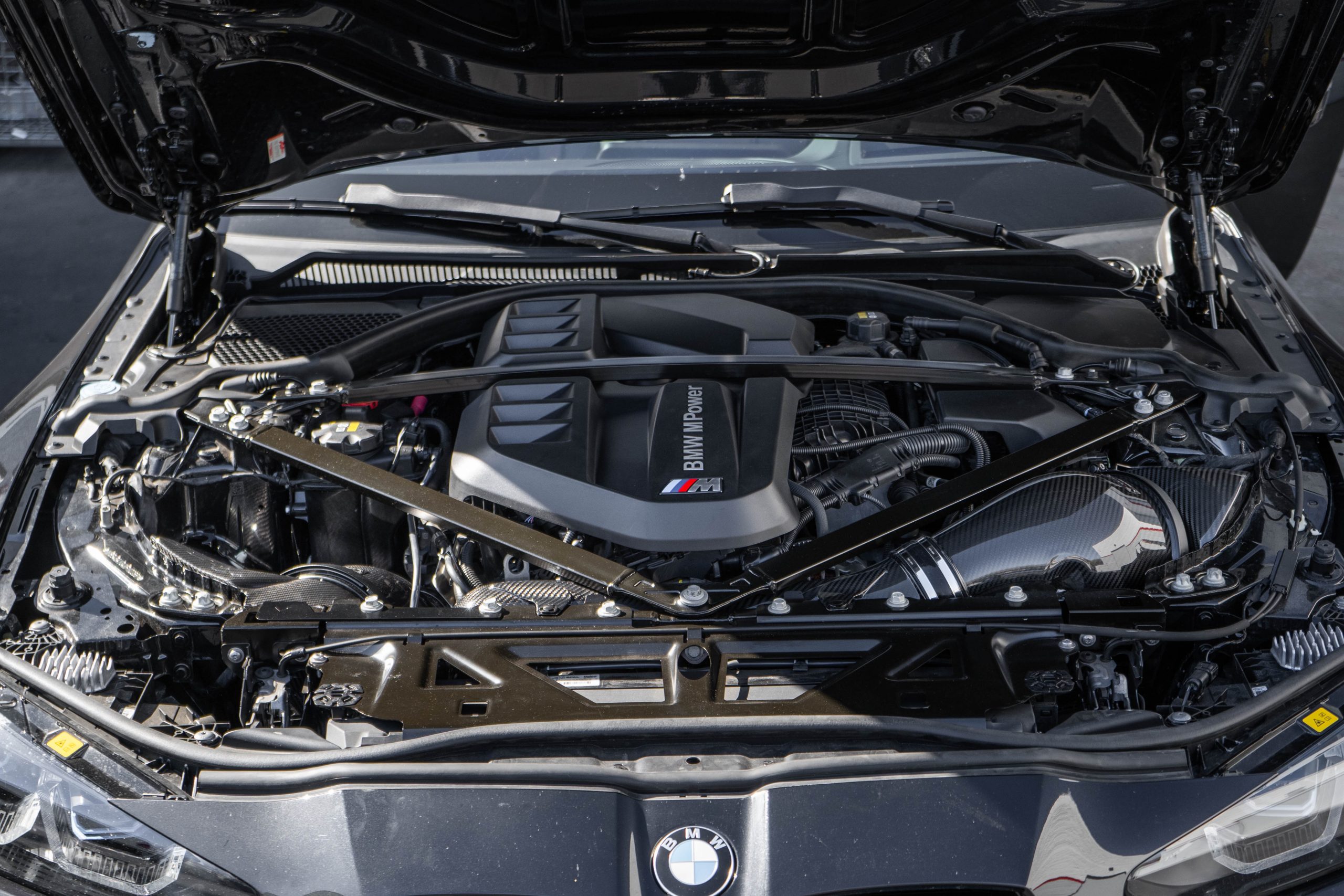 The 3.0L Twin-Turbo inline-6 S58 that lives in the engine bay of the M3 and M4 G80 was just as stout, if not more so than the B58 it replaced. While the highest numbers we were able to draw out of the stock turbos and this extremely reliable engine will remain top secret, we can proudly say our VR Tuned Tuning Box was able to achieve a peak of 640hp and 559ftlbs of torque while maintaining safe ignition timing and without increasing knock to a dangerous point. Additionally, due to the plug and play nature of the VR Tuned Tuning box, you can gain up to 137hp and 80ftlbs of torque and may even be able to maintain your factory warranty, depending on your vehicle's point of failure and the dealership which services it.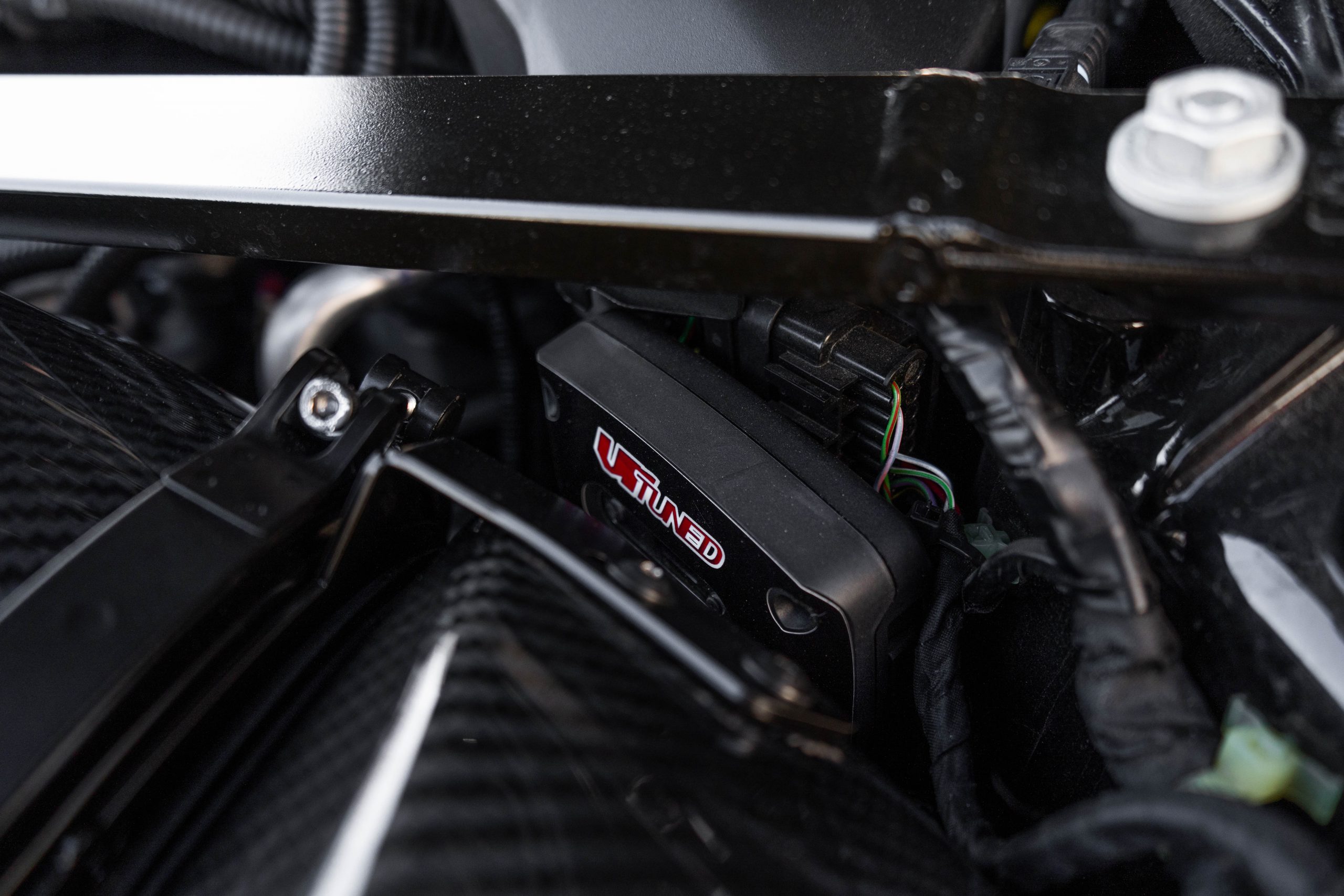 Unlike more invasive tuning methods, we were able to extract this power from the S58 without modifying the ECU's Timing and Fuel tables directly. That is to say, to the naked eye, the ECU was untouched. However, German engineering, American ingenuity, and some basic EFI logic allow our tuning box to modify the signals sent from the factory sensors to the ECU and allow the ECU to make adjustments based on parameters initially defined by Bayerische Motoren Werke Aktiengesellschaft (that's what BMW stands for).
While the new BMW Engine Computers do have the ability to datalog to identify issues or anomalies in a vehicles performance that would surely reveal ECU tampering, since the VR Tuned Tuning Box is plug and play and can be uninstalled without a trace, it's safe to say uninstalling the Tuning Box and unplugging the battery for about 10 minutes should be enough to lose any datalogs and allow you to drive to your service center as stock as the day it left the plant. This of course, is just theory and not instruction.
So if you're interested in gaining horsepower, throttle response, and increasing those much sought-after burbles from your exhaust without completely forfeiting your warranty by opening the ECU, look no further than VR Tuned.
If you have any questions regarding our tune, please shoot me an email at iori@vividracing.com!
Featured Product: VR Tuned ECU Tuning Box Kit V2 BMW M3/M4 Competition G80/G84 503bhp G82 2021+